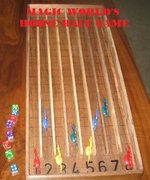 HORSE RACE GAME
Simple game: throw the die .....one die per player... slide your horse according to the number on the die.....except.... throw a six and you lose that turn...no movement.
First one to the end of the track wins. Extend the race by coming back to the start.
Speed up play by throwing a pair of dice, remembering a six does not move!