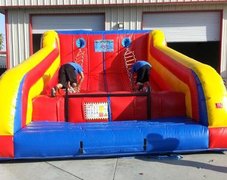 LADDER CLIMB

Outlets: 1

Age Group: 5-30

Monitors: 2
LADDER CLIMB
The classic carnival interactive game that you see at carnivals can be at your next event. So much FUN!!!. Great for all ages.
Perfect for High School,Grammer Schools, Curch events. Great for grad Party's.
2 people Try to Climb up the ladders before it twist. Super challenging and fun!
One of are most popular interactive games.